Our Story…
We started with a simple idea using simple ingredients; flour, water, yeast, salt and malt. In addition to those we threw in a pinch of love, passion and a healthy measurement of obsession! That was in Camarillo California in 1994.
Since day one, we have worked tirelessly to create a fast-casual delicatessen and bakery brand, offering simply the best of an authentic menu where quality, comfort food is done right, in a place that is comfortable and inviting to meet family and friends.
What had started as just a tiny little bagel & coffee shop, sure has evolved and grown over the years. Our original Old New York Deli & Bagel Co. store is still there in its same location today, though we have "fixed" it up over the years and became Old New York Deli & Bakery Co., the same oven is there today baking all the wonderful aromas we walk into each day!
Our goals and philosophy have stayed the same since 1994, we pride ourselves for building our brand one customer at a time, providing the best quality products with outstanding service at a reasonable price. We are committed to our team members and our communities and strive to continually beat our guest expectations each day.
From our family to yours, we thank you for your patronage and hope your experience at Old New York Deli & Bakery Co was so special; that the next time you visit you will bring a friend!
Made from scratch, made by hand since 1994.
Michael & Julie Raimondo Owners/Founders & Chief Bagel Makers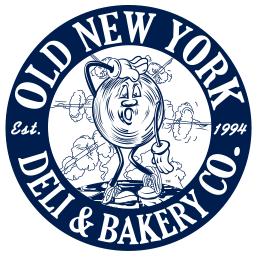 Our Standards…
Our bakery is our foundation, built daily by our bakers that start our day at 2am, using only unbleached flours, real butter and all-natural ingredients with absolutely no preservatives. Our bakery items are made from scratch and made by hand producing incredible breads, pastries, and numerous varieties of authentic kettle boiled and hearth baked bagels (If it isn't boiled…it isn't a bagel).
Our made to order breakfast sandwiches, eggs & omelets are crafted using only free-range brown eggs.
Our sandwiches are handcrafted and piled high using all natural, preservative free Choice USDA meats and the highest quality dairy products available.
Our ground beef is farm raised Certified Angus and our chicken is fresh, antibiotic & hormone free.
Our healthy salads & wraps are made fresh using organic and locally sourced produce.
Our cream cheeses, soups and salads are made from scratch, made by hand in our kitchens.
Our Old New York Signature blend coffee is 100% local roasted, fair trade, certified organic.
Our craft beverages are Organic, Non GMO, organically better beverages!
Our beer is local select craft micro brewed.